FEEL FABULOUS AND BE THE MOST BEAUTIFUL YOU
"BEAUTY IS NOT ON THE OUTSIDE IT'S SOMETHING
THAT SHINES OUT FROM INSIDE YOU"
___________________

Now is the time to let your beYOUtiful shine and exist in portraits.
WE PHOTOGRAPH EVERYDAY WOMEN LIKE SUPERMODELS
BECAUSE THERE IS A SUPERWOMAN IN YOU

Experience your very own fashion makeover session with hair and makeup and a photoshoot to capture the most beautiful confident you. Discover just how beautiful you are.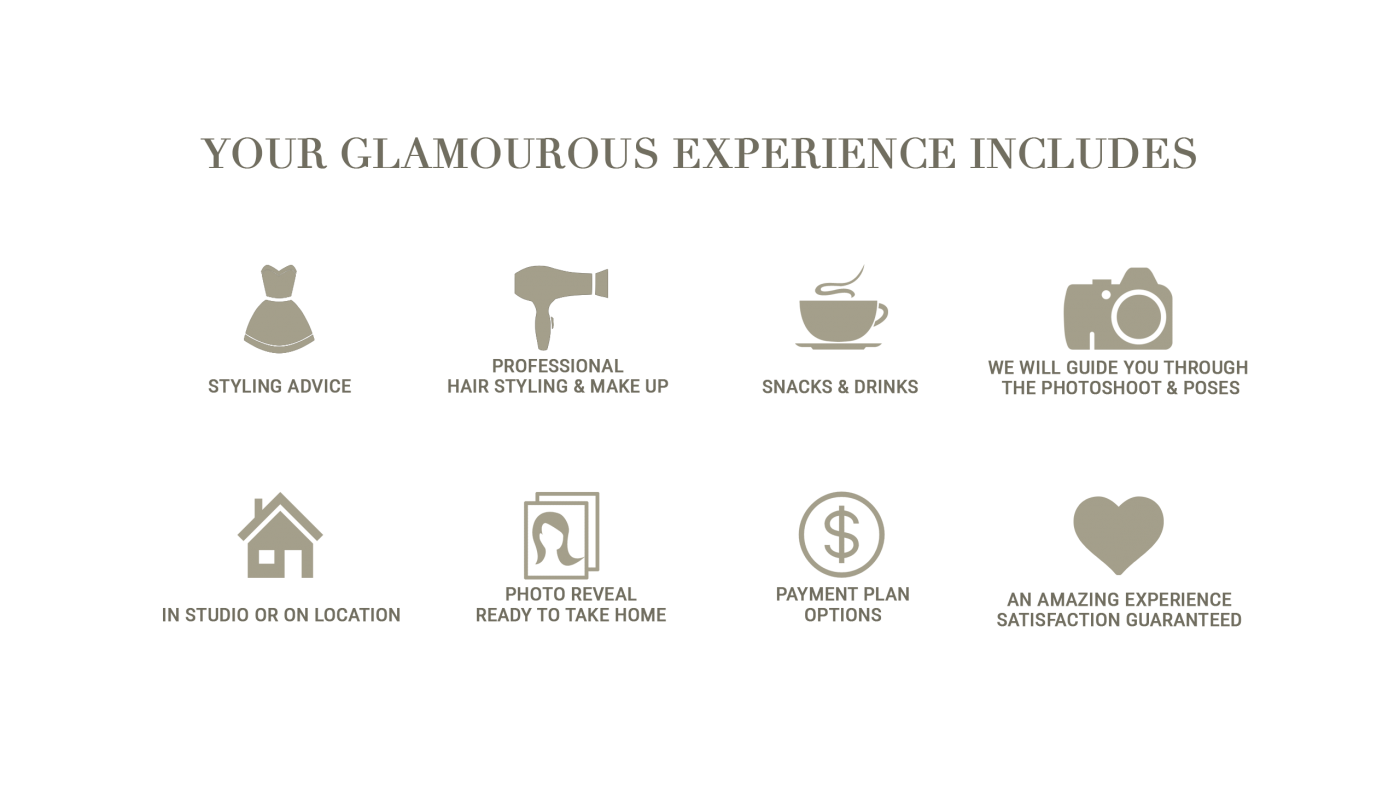 Feel Glamourous. Look Amazing
Book your professional photoshoot as a treat to yourself whether it be to celebrate a milestone, a weight loss reward, a new relationship, or to remember just how beautiful and amazing you are
Do you have a portrait of yourself that you love?
YOUR SESSION
Our residential studio is located in Carrum Downs, just 40 minutes south east of Melbourne down Eastlink, with plenty of street parking.
Bring along your outfits that we will discuss in your phone consultation as well as accessories that portray you and you style. This is a unique experience designed to make you look and feel your best. We will style your hair and give you a glamorous makeover to get you feeling pampered.
We will move through the photoshoot slowly guiding and sculpting your curves and expression to create amazing looks which will allow you to have an array of images to choose from. From glamorous to more relaxed and casual. We help everyday women look and feel beautiful.
PRICING INFORMATION
Weekday fashion beauty photoshoot experiences are $195. Weekend or location photoshoots are $245. They include hair and makeup for two, as great experiences are alway better when shared. However you welcome to come alone and make it all about you.
There is a booking deposit of $50 to secure a photoshoot date and time. The booking deposit will be deducted from the photoshoot fee.
Photos start at $250 and packages which are the best value start at $690. All packages include digitals and printed photos. There are also payment plans available.
The best part is you only purchase what you love. You can spend as much or as little as you like. Your photos can be purchased individual or you can purchase one of the three packages.... the middle package being the most popular and one of the best value for money.
Each fashion beauty photoshoot experience includes a consultation, styling, private photoshoot, and a viewing and purchasing session. Our mission is to take beautiful portraits that you absolutely LOVE, celebrate your beauty, and you will want to keep.
All of these woman are beautiful...they are not models...they are everyday woman, each with their own story. We love to photograph real woman and we would love to photograph you!

Pictures Beautiful. Experience Amazing.
"We had a lovely experience. Very relaxed, we were not rushed at all and the end results show that. I felt beautiful and that was a lovely feeling. Can't wait to put our new family photos up on the wall."
"Oh, Wow our portraits. There were so many to choose from with all my family. I would have to selfishly say my portraits because Mike & Teri made me look so glamorous and I felt beautiful. My own portraits has given me a huge confidence boost in so many areas in my life as I move forward."
"I don't always feel beautiful, I just thought I looked nice. My portraits have proved that I do look beautiful and that my husband is telling me the truth!
Make an Enquiry
Just leave us your details and one of our friendly staff will contact you within 24 hours to answer any questions and chat about how you might like to be photographed, or call (or txt) the studio now on 0430 425 866 and discover what we can do for you.